Events at Orton Hall
With 10 excellent private rooms available, we can provide you with unique and flexible spaces for any event. Whether it's a Christmas gathering, cocktail party, private dinner or a conference set up, our team would be delighted to help you plan your next event in one of our function rooms…
For enquiries please contact us on 01733 391111 and ask for events.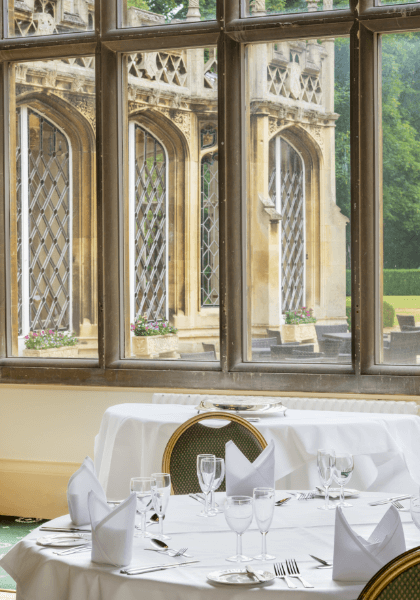 ---
Private Celebrations
Whether you're planning a birthday, anniversary, baby shower, christening or school prom, Orton Hall is an ideal place to celebrate your special occasion. Our Chef can create a menu for your special occasion whether it be a 3-course banquet, informal buffet or afternoon tea, and our events team can suggest accompanying wine and reception drinks.
---
Delegate Packages
We offer excellent value delegate packages with everything you need included like flip charts and audio-visual equipment. You'll also be served with light refreshments throughout the meeting. Should delegates wish to stay over, we also offer preferential rates that include all meals and full use of hotel facilities. Talk to our dedicated conference team to find out more.
Our largest room is the Orton Suite which can accommodate up to 160 delegates in a theatre style. The next largest is the Great room, which is suitable for up to 100. We also have several smaller rooms that can accommodate from 20 to 40 people that would be suitable for more modest meetings or one-to-one interviews. All are air-conditioned with free Wi-Fi throughout.
---
| Room | Theatre | Classroom | U-Shape | Boardroom | Banquet | Cabaret |
| --- | --- | --- | --- | --- | --- | --- |
| Great Room | 100 | 48 | 33 | 42 | 90 | 40 |
| Braybrook | 30 | 12 | 14 | 20 | 0 | 10 |
| Talbot | 30 | 12 | 14 | 20 | 0 | 10 |
| Rayner | 30 | 12 | 14 | 20 | 0 | 10 |
| Shrewsbury | 30 | 12 | 14 | 20 | 30 | 10 |
| Hayloft | 40 | 12 | 18 | 26 | 30 | 0 |
| The Orton Suite | 160 | 70 | 50 | 60 | 120 | 55 |
| The Elton | 0 | 0 | 0 | 14 | 0 | 0 |
| The Yarwell | 20 | 12 | 12 | 14 | 0 | 0 |
| The Fotheringhay | 0 | 0 | 0 | 14 | 0 | 0 |